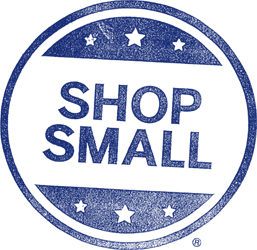 I'm a magazine reader, maybe because with my busy mom schedule I cannot seem to sit down and read more than five pages of a book…the same five pages I read last time, because it's been so long since I picked up a book that I cannot
remember the plot. Magazines fit perfectly into my small
"me" moments. In the autumn of 2011 I noticed articles popping up in all of my issues promoting the second observation of "Small Business Saturday."
An initiative started by American Express in 2010, Small Business Saturday is celebrated the Saturday after Thanksgiving and falls in line with Black Friday and Cyber Monday by helping kick off the holiday shopping season. By its second year this event gained an incredible amount of national attention, and I took notice too.
We all know the benefits to shopping local – helping our neighbors' businesses, keeping money within the local economy, and typically "greener" products are just a few. The ethos of Small Business Saturday is purely to support these benefits by encouraging people to visit local businesses during their shopping rush.
In order to further encourage customers to participate, American Express offers cardholders who register their American Express card a $10 statement credit when they spend at least $10 at a pre-approved small business.  And, we're matching this offer! All online subscription orders on Saturday, November 30 are eligible for $10 off. Simply use discount code "SBS13" at checkout. 
Don't forget to visit www.shopsmall.com to register your card and find approved shopping locations here; there are a limited number of credits available, so register as soon as you can starting November 24, and remember businesses accepting American Express must register to participate as a shopping location for this event.
I hope you'll support the mission of Small Business Saturday by visiting small storefronts in your area or online. Happy Shopping!