Michael Heaston, Head of Music and Director of the Young Artists Program (YAP), talks to former Young Artist Catherine Martin, who returns in 2014 as the Composer in Ariadne in Naxos.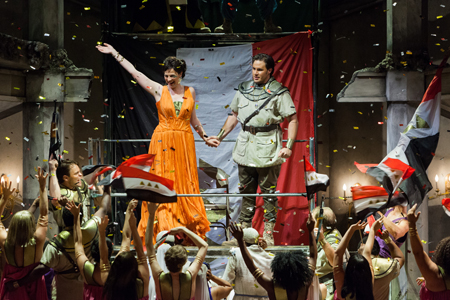 You've been quite busy since you were last at Glimmerglass as a Young Artist in 2012.  What projects do you have lined up for this season?
Thankfully, I have! I have more and more German rep coming. I have the honor of singing my first Das Rheingold and Die Walküre with Houston Grand Opera, followed by another in Dresden. I am hoping more will come! And I am currently covering Amneris in Houston's Aida as well.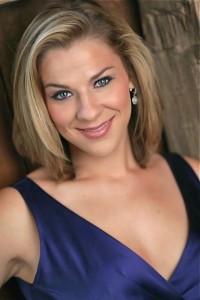 That is all very exciting, and I know our audiences will be thrilled to know that Amneris has stayed in your repertory following your incredible performance of the role in our Young Artist matinee performance of Aida. But now your young artist days are behind you and this summer you will return as a guest artist for your role debut as the Composer in our production of Ariadne in Naxos.  How does it feel to debut this role?
I am so excited to sing the Composer! I covered Susan Graham in it a few years ago at Houston Grand Opera and loved watching her do it. I love the character and feel it hits pretty close to home for most of us as musicians. The Composer is strong-willed, passionate and holds music as the highest of all art. Sound familiar?
And it must also be especially nice to make this debut with Kathleen Kelly at the podium, after your work together at the Houston Grand Opera (HGO) Studio!
Kathleen Kelly is a major reason I am here today. She heard me years ago at Cincinnati College-Conservatory of Music as a master student and decided to take me into the HGO competition, which led me to the studio. She is one of the most influential people in my life. She taught me so much as a singer, musician and person — I am honored to sing under Maestro Kelly.
What are your top three dream roles?
This is a hard question. I usually say whatever role I'm working on or singing next! I must say I have been waiting to sing Octavian [in Der Rosenkavalier] and Composer for a while. I bought the scores years ago, and I have been waiting to debut the roles. Aside from those, I would love to sing Charlotte from Werther … LOVE!  I am also such a fan of Jake Heggie and would love to sing Sister Helen in Dead Man Walking (which I've covered). Jake loves a mezzo and mezzos love Jake!
What will be your first two stops in the Cooperstown area upon your return in June?
Stagecoach Coffee…because I need my coffee before rehearsal. The Red Hen (for Lobster Bisque) and Alex and Ika for sure! Yes, they are all food.
This excerpt is from Fanfare, The Glimmerglass Festival Patron Magazine. Fanfare is published twice annually, in the Fall and Spring, as a benefit for National Council and Camerata members and members of the Glimmerglass Opera Guild.