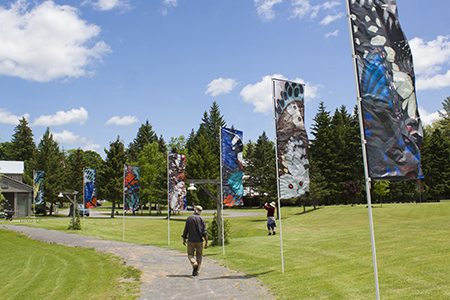 The colorful blends and reflections of a kaleidoscope are now tucked into the sprawling lawns of the Glimmerglass campus. In referring to a "kaleidoscope," however, I'm not suggesting the childhood toy of whimsical shapes and luminosities. A group of butterflies, collectively called a kaleidoscope by entomologists, landed on The Glimmerglass Festival grounds this weekend in the form of wind vane banners for the 2014 art installation, "Flight Patterns."
Now in its third year of featuring visual art works, the Festival has been home to a pair of grapevine-woven elephants and a ship sculpture—both in homage to past productions of Aida and The Flying Dutchman. This season's installment, created by George Peters and Melanie Walker, features a line of butterfly-themed banners that lead the way to the Alice Busch Opera Theater, which will house the Festival's 2014 production of Puccini's Madame Butterfly.
"We decided to do something that would fit well with the theme of the opera in color and sensibility, " said George Peters, "and work with the curved entry walk through the grounds to create a celebratory grand entry to the festival."
The banners' images of butterflies and moths are the result of collages compiled from photographs taken in the entomology collection at the University of Colorado Boulder, where Walker is a tenured professor of art and photography. Peters and Walker divided the project, each working separately on their half of the banners without consulting the other. The result is a collection of entirely unique banners to greet Festival audiences.
Peters and Walker crafted these 16-foot creations from their Airworks Studio in Boulder, Colorado, in effort to enliven the Glimmerglass campus with a small taste of Puccini's opera, which will debut on July 11. Elegant, yet able to withstand the winds that persuade their direction, the winged images reflect the heroine of Madame Butterfly from the theater stage onto the lawns of Glimmerglass.
Each wind vane banner will be available for purchase at the end of the season.
More information can be found about the artists at AirworksStudio.com.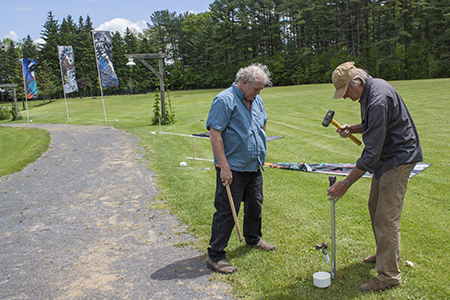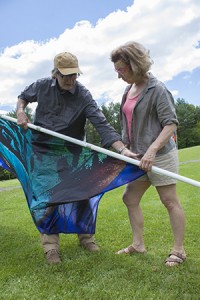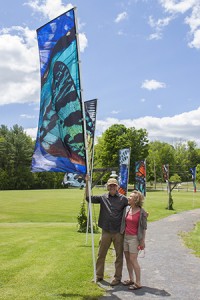 Artist George Peters installs "Flight Patterns" on the Glimmerglass lawn with the help of artist Charles Bremer and consulting curator Sydney Waller. 
Photos: Jessica Kray