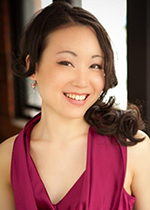 The Young Artists Program focuses on training performers of all types—not just vocalists. Tina T.Y. Chang, an Assistant Coach / Accompanist at the 2014 Festival, is a prime example of this. She makes her Glimmerglass debut this summer with her work in both Madame Butterfly and Ariadne in Naxos. She will also be performing in the Young Artists Bel Canto concert today at 5 p.m.
A Canadian at heart, Chang earned her B.M. from the University of British Columbia before moving on to receive her M.M. t the University of Minnesota. She has served as Music Director for Così fan tutte at Fear No Opera, and as répétiteur for the productions of Don Carlo, Don Giovanni, Albert Herring, Tea: A Mirror of Soul and Tosca at Vancouver Opera. Additionally, Chang was both répétiteur and principal coach at Mill City Summer Opera last summer.
Here is our Quick Q&A with her:
What has been your favorite opera so far and why? I guess my answer should be Don Giovanni. It is one of my favorite operas of all time. There is such madness in the chaos of the plot, the drama, and the comedic elements that each of the characters presents within themselves and in their respective situations. The many dimensions of the music are cerebral and emotional at the same time—not to mention just the pure joy with which Mozart and Da Ponte wrote of these characters.
Is your family involved in the arts as well and how? None of my family is involved in the arts, so I guess I'm the black sheep of the family. However, my family has been very supportive of my decision, and I count myself lucky in that respect.
Are there any artists you feel particularly inspired by? There are many artists by whom I am very much inspired, and they're not just limited to musicians. I won't name any names, but all of them share an infinite love for their form of expression,  the drive to always learn more — whether it's about themselves or their respective art forms and beyond — and  their humbleness through all of it.
What do you sing or listen to for fun? Anything from early music — classical music, of course — to jazz, rock music, and some indie pop bands. Someone once said that there are no genres of music, just good and bad music. I guess that boils down to preference.
What are your interests or hobbies? Hiking, cooking, reading, people watching (not in the creepy  kind of way, but in the "romance" of sitting in a café kind of way….)
If you hadn't become a pianist, you would have: I might have become an interior designer.
Any hidden talents? If I do, they're hidden from me.
Only one week of performances remain for the 2014 Festival.