"It was very important for us in the beginning to sing in English to make the operas more approachable. I remember we felt we had really accomplished something when the janitor from the high school brought his family to see La bohème. He had no interest in opera at all, but he was around during the rehearsals and he brought his family to see a production. We just thought we'd arrived. We had gotten our message across."
–Dorothy Caswell, from an oral history interview of Dorothy and
and Alan Caswell, November 3, 2001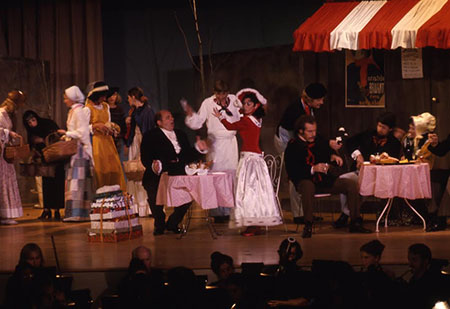 From the beginning, Peter Macris and many community members, including the Caswells, strove to bring spectacular and engaging operas to the small village of Cooperstown. They yearned for a place for year-round and summer residents to get a taste of entertainment on an international scale. Today, The Glimmerglass Festival attracts audience members from all around the globe while still maintaining the intimate, familial setting that welcomes both experienced and emerging opera fans each year.
As The Glimmerglass Festival's 40th anniversary approaches, what better time than now to take a trip through the archives and reminisce about the inception and evolution of this summer festival? Please visit www.happy40thglimmerglass.org to wish us a Happy Birthday and take a look at our timeline of 40 years of Glimmerglass history.