"I kid around saying it's 'America's only opera house on a turkey farm.' Because it was, of course… And the whole business of moving the doors and the whole romance of the site to see through the building and see out through the landscape and then have it all disappear as the opera begins, it's pretty good stuff."
–Hugh Hardy, from an oral history interview on September 27, 2001
When Glimmerglass first decided to build an opera house in the mid-80s, the company was working with limited funds but an enormous vision. With the help of many supporters and community members, Glimmerglass eventually settled on the generously donated picturesque landscape of Tom Goodyear and Jeanette Bissell Goodyear's turkey farm.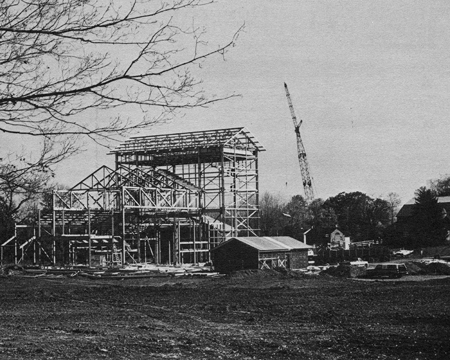 Architect Hugh Hardy set to work on a project that produced a massive, yet welcoming, open-air opera house that brought the beautiful environment to the audience and created a comfortable, familiar venue for guests to embrace world-class entertainment.
"There are some wonderful hops barns around and agricultural structures which are the big-scale buildings of that region and it seemed to be only natural that we would do that. People don't realize, because the facade is typically made of wood, that in fact it's a big steel building and you think inside, because of the colors of the paint and the wood ceiling and the lattice work, that it's all a wooden structure, but it isn't. That scale of a structure seemed to me, it just had to look a barn."
–Hugh Hardy
Today Glimmerglass' unique opera house, with its large sliding walls, is often the image that comes to mind when community members and international opera-goers alike think and talk about Glimmerglass. The Alice Busch Opera Theater is not just a building, but an integral part of every Glimmerglass Festival-goer's experience. For more on Glimmerglass' history, visit www.happy40thglimmerglass.org to wish us a Happy Birthday and take a look at our 40-year timeline.