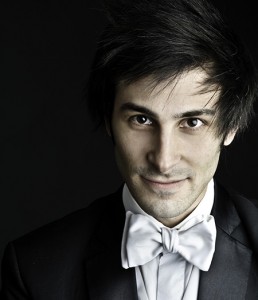 With the 2015 season springing into action, this year's Young Artists are preparing to take on their roles in The Magic Flute, Macbeth, Cato in Utica  and Candide. Young Artist Isaac Selya will not be up on stage, but rather in the orchestra pit as Assistant Conductor in The Magic Flute and Candide. Selya comes to Glimmerglass from Cincinnati, Ohio, where he received his Doctor of Musical Arts in Conducting from University of Cincinnati-College Conservatory of Music. He has worked with Queen City Chamber Opera in its productions of The Abduction from the Seraglio, L'amore dei tre re, Die Walküre Act I and Siegfried Act I. Selya has also conducted Beethoven's Symphonies Nos. 5 and 6 at the Guatemala National Symphony Orchestra, as well as Ghosts of Crosstown at Opera Memphis.
Here is our quick Q&A with him:
What has been your favorite role so far and why? I really enjoyed conducting the first act of Wagner's Die Walküre. It has a great mix of high-fantasy epic moments and very human intimacy, all set to some of the best music ever written.
What is your dream role? Depending on the day, I would love nothing more than to conduct Simon Boccanegra, Parsifal, Der Freischütz or Don Giovanni.
Is your family involved in the arts as well and how? My parents are both amateur musicians—my mother plays violin and viola, and my father plays cello and piano and sings. They started me on cello when I was 5, and within a few years. they let me join in when they had friends over to play chamber music.
Are there any artists you feel particularly inspired by? Maestro Colaneri played a huge part in inspiring me to become an opera conductor. I also really like the recordings that Georg Solti and Claudio Abbado left behind.
What do you sing or listen to for fun? I'm a pretty big nerd—I really only listen to classical music. Mozart is my favorite, and I also like Puccini, Verdi, Rossini, Donizetti, Wagner, Beethoven, Weber, Mahler, Chopin and Tchaikovsky.
If you hadn't become a conductor, you would have: Probably a chemist…
Any hidden talents? When I'm not waving a stick at people, I play cello and piano, and I also studied voice…. I'm also really really good at Nintendo games.
One thing you can't live without: Red shoes.
Why are you most looking forward to the 2015 Festival at Glimmerglass? Growing as an artist.