This season the Glimmerglass audience will be greeted by an unusual guest as they make their way to the Alice Busch Opera Theater. A 15-foot-tall, 25-foot-long and 16-foot-wide bird made of rebar, cold pressed steel and wire stands tall at the festival entrance.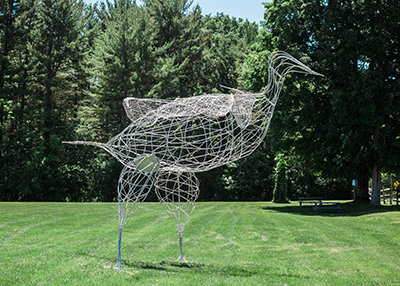 The 2016 Glimmerglass Festival welcomes back the work of artist Elizabeth Schoonmaker, who created the elephant structures inspired by Aida four years ago.
Schoonmaker started sketching the concept inspired by The Thieving Magpie back in January and proceeded with a copper wire model. The actual construction of the bird began on April 11 as Elizabeth and her full time assistant, John, worked on it every day – even in the snow and cold that upstate New York experienced.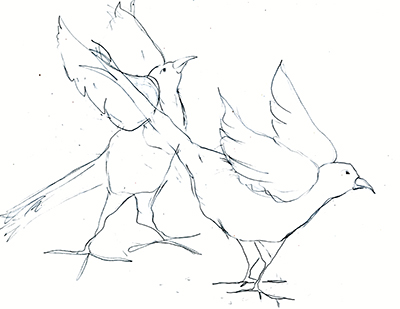 Inspired by landscapes, Schoonmaker has created paintings of Central New York for 30 years and uses sculptures to strengthen her drawing skills.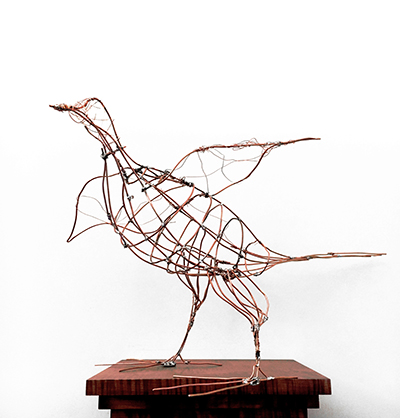 When asked how she decided on such a distinct design, Schoonmaker said, "I wanted the work to be linear contour drawing in three-dimensional space. Long tail, tilted head, wings spread, breast up, standing proud yet mischievous with big feet for stability."
The sculpture was designed in sections so it could be transported and assembled onsite.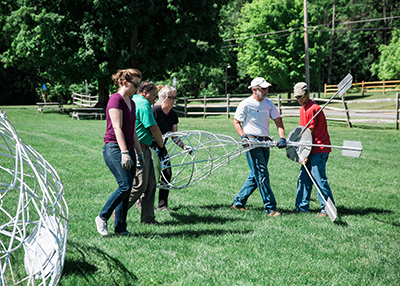 Once the bird arrived at The Glimmerglass Festival, Elizabeth, along with contractor Ed Bello and our facilities crew, assembled the pieces. The body of the bird was raised and attached one leg at a time. To complete the structure, the wings were bolted on last.
The bird will be on display for the duration on the 2016 Glimmerglass Festival season.
Read more about Elizabeth Schoonmaker's work at http://elizabethschoonmaker.blogspot.com/