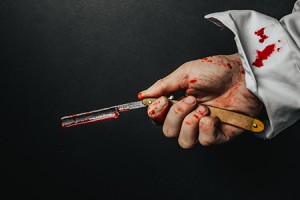 Sweeney Todd is known for its award-winning score by Stephen Sondheim as well as its dark – and gruesome – themes. When Benjamin Barker is cruelly banished from London by the corrupt Judge Turpin, he returns as "Sweeney Todd," and takes his revenge with a straight razor. To get ready for the
show's grisly moments, Technical Director Ross Rundell had some fun in the scene shop testing prop blood. He had some criteria in mind: the fake blood needs to look real, but also clean up easily from the set pieces and costumes, since we have 12 performances of Sweeney Todd this summer.
You can see the video below:

For our production of Sweeney Todd, we will be using the third variation Ross tests in the video, which is a mixture of manufactured prop blood, called Reel Blood, and laundry detergent. People have asked whether using a combination like this over the course of 12 performances could irritate the skin of our performers. Prop Master Anna Goller explained that if any of the performers exhibited any reaction to the prop blood, the mixture would be altered. We always keep our performer and crew safety in mind when planning productions. Right now, the plan is to use Tide laundry detergent, but it can easily be switched.
Up next…the members of the production team are layering the Sweeney Todd set walls with laminate to make it easier to wash the walls in between each performance.