Rachael Powles, a first-year member of the Glimmerglass Festival Youth Chorus, is an incoming junior at Sauquoit Valley High School, where she is co-editor of her school newspaper as well as an active member of the drama club. 
Arthur Miller's Tony Award-winning play The Crucible has stood the tests of time. Written in the midst of the Red Scare, the fictionalized account of the Salem Witch Trials and people who shaped it has been cherished for over fifty years, celebrated in movie adaptations and a recent Broadway revival. In 1961, composer Robert Ward reimagined the tale of deception and suffering as an opera. His rendition graces the Mainstage at Glimmerglass this season.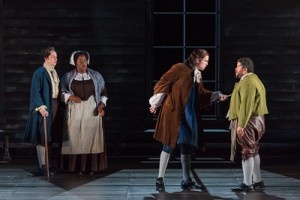 The residents of Salem are forever changed when the minister's daughter is found in a comatose state after a rebellious night of dancing in the woods with the other local girls. Witchcraft is deemed the cause, spurring a frantic search for all those doing the Devil's work. As Salem falls further into chaos, finger-like branches descend upon the set and shadows loom larger. Only one man seems to see through the ruse: our unlikely hero, John Proctor. As more and more innocents are sent to the gallows, Proctor must face his own inner demons as he fights to stop the corrupt powers that claim to be doing to the work of the Lord.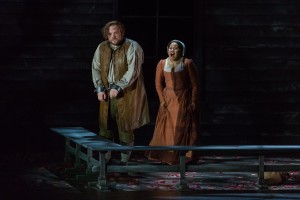 Antagonist Abigail Williams, brought to life by Young Artist Ariana Wehr, begins the hoax by accusing the Barbadian slave Tituba of dealing with the Devil, ushering in the paranoia. Abigail then takes charge of the hunt, eventually becoming an official of the court, all with hopes of rekindling her romance with John Proctor. As Wehr put it, "I've been trying to find a character that is something more than just evil and vindictive. She definitely did some terrible things, but I think it's more reactionary. She didn't have parents, and you can tell from the beginning how she was treated.  It makes sense that she would be attracted to a person like John Proctor." Proctor is an equally complex soul. He carries immense guilt for his affair with Abigail and longs to restore his good name, but the terror of the witch hunt forces him to choose between damning himself and damning those he loves. Elizabeth Proctor appears to fit the stereotype of the Puritan homemaker: prim, proper, and obedient. Her true nature, however, is summarized in the Act IV lyric, "Calamity surrounds her, yet she weeps no tear."
Director Francesca Zambello places actors of multiple races in traditionally white roles, a concept known in theater as color blind casting. As an actress of color, Wehr expresses her gratitude for the choice to reflect the appearance of present-day America in this piece of history: "I firmly believe that nobody in opera is doing as much for diversity as Francesca. When the story telling and the vocalism is so strong, it doesn't matter how people should look. I think it's a great thing, especially since this piece is an allegory for a different time, a more modern time.  It's a mirror that we can reflect our own society through."
Indeed the questions at the center of The Crucible continue to resurface as we find ourselves in a new era of political turmoil. Are goals fought for in the name of religion always noble? If given a choice, should you die telling the truth or live a lie? What qualities make a person trustworthy? When asked why the show has remained relevant, Wehr explains, "This happened. Some people may want to stay away [from this show] because it is uncomfortable, but that's the point. I encourage everyone to come see it, think about it, and continue to think about it."