Rachael Powles is an incoming junior at Sauquoit Valley High School, where she is co-editor of her school newspaper as well as an active member of the drama club. This is her first production with The Glimmerglass Festival
Although Rossini's 1817 opera The Thieving Magpie is rarely performed today, The Glimmerglass Festival brings this colorful world to life on the Mainstage this season. A series of miscommunications and unfortunate coincidences provide the conflict.The beautiful servant girl Ninetta is engaged to her employer's son, the recently returned war hero Giannetto. When Ninetta's future mother-in-law discovers her precious silverware is missing, all signs point to the young servant. The conniving mayor, whose sexual advances Ninetta rejected, is all too happy to arrest her. Throughout her unjust imprisonment, our heroine remains filled with hope for a better tomorrow, even with the threat of execution hanging over her at all times.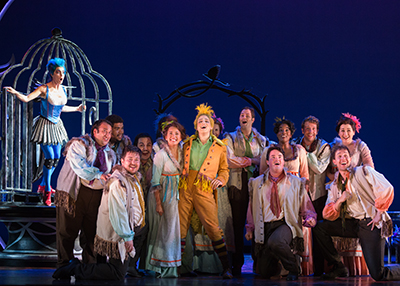 Ever present is the cheeky, kleptomaniac Magpie in her cage, played by actress and choreographer Meg Gillentine, observing the trials and tribulations of humans around her.  Hardly saying a word, our feathered foe views nearly every major event along with the audience, while other characters remain oblivious. This dramatic irony not only heightens tension, but adds subtle touches of comedy to this otherwise dreary story.  Largely ignored by the humans until the opera's climactic scene, the Magpie plays a pivotal role in deciding the fates of the characters, exemplified in the choreography.  In some cases, fluid dance moves show the Magpie distantly controlling her owners like a puppet master. "As a dancer, I am a firm believer that we tell a story through our bodies," Gillentine explains. "if you don't tell a story all the way to the end of your fingertips, you're not going to reach the back row of the audience. Through physicality, through the vocabulary that I created for the Magpie, I'm able to say what I would if I could with my body instead of my voice."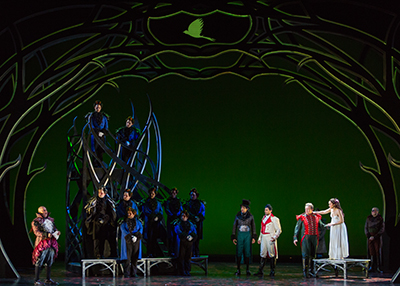 The Magpie, in a way, is not the only bird in this show. Thanks to the combined efforts of costume designer Myung Hee Cho and choreographer Meg Gillentine, every character possesses avian qualities. Pure, innocent Ninetta is modeled after a dove. Cunning Mayor Gottardo resembles a vulture, the Magistrate a murder of crows. "I watched a lot of YouTube videos," Gillentine laughed. "A lot of birds. I watched a lot of Charlie Chaplin." Likewise, lighting designer Mark McCullough further immerses the audience in this world, flushing the stage with vibrant colors that match the moods of the characters; crimsons and golds during Ninetta's Act I love aria, bright pink and purple when Giannetto returns from battle, deep blue stained with violet as Ninetta parts with her beloved father, sharp gray when the sentence is read.
Though frequently labeled as a comic opera, The Thieving Magpie echoes the Romantic Era in which it was written. By addressing difficult themes – should one accept a false accusation to protect others? What is the correct way to handle impending mortality? – and having characters grapple with powerful emotions, from passion to despair to awe, Rossini crafted an opera that continues to resonate with modern audiences. Despite numerous twists and turns, happiness is eventually found. From its infectious melodies to its powerful language, The Thieving Magpie will appeal to lovers of comedy and drama alike. As Gillentine states, "Expect to be entertained, and to be taken on a journey through this dark fairy tale."