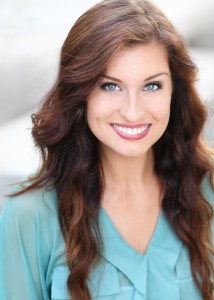 Mezzo-soprano Mary Beth Nelson returns to The Glimmerglass Festival this summer after wrapping up a season at Tri-Cities Opera. She will sing the role of Justice Ruth Bader Ginsburg in Derrick Wang's Scalia/Ginsburg for the 2017 Festival. In 2016, we were thrilled to have her join the Glimmerglass Young Artists Program in the roles of Betty Parris in The Crucible; Pippo (cover) in The Thieving Magpie; and the Swallow in the youth opera, Wilde Tales. Nelson obtained her undergraduate degree in Vocal Performance from Oklahoma City University.
Learn a little more about Nelson in our Quick Q&A:
Why Opera?
Because it is the ultimate, most intense, and most exposed method of storytelling!
What has been your favorite role so far and why?
My favorite engagement thus far was in summer of 2014 when I performed Stephen Sondheim's Side by Side at Seagle Music Colony with my best friend, Eryn. Sondheim is one of the greatest musical storytellers, and performing a plethora of his songs with my bestie was incredibly special. Eryn and I went to the same college, and now she is set to go to Broadway in fall of 2017, and I am nearby at Glimmerglass. We've always had #bestieparallels, and they just keep coming.
Is your family involved in the arts as well and how?
My family is not outstandingly musical, but they are extremely supportive of me. My dad built the sets for our community theater when I was young, and my mom plays the piano. Last summer they drove a car all the way from Austin, Texas, to see me at Glimmerglass, and they plan to do the same this summer!
What artists inspire you?
My best friend, Eryn LeCroy, Jay Hunter Morris, Lorraine Hunt Lieberson, Kelli O'Hara, and many more.
What do you sing or listen to for fun?
Lately, I've been listening to the Hamilton Mixtape, Bethel Music, Misty Edwards, Chris Thile, Grace, Casting Crowns, Bernstein, and Leslie Odom Jr. There are some really fun movie soundtracks I love — La La Land, and The King and I & Prince of Egypt are CLASSICS.
What are your other interests or hobbies?
Traditional archery with my recurve bow, baking, reading, aeropressed coffee, watching YouTube videos of Olympic Athletes (it inspires me!)
If you hadn't chosen this career path, you would have:
If I hadn't chosen performing, I would have been in fundraising for opera, musical theater, or any performing arts organizations.
Any hidden talents?
Traditional archery on a recurve bow, Julie Andrews impression, beatboxing.

Why are you most looking forward to the 2017 Festival at Glimmerglass?
I remember answering this question last year, and I think my answer was somewhere along the lines of "because Francesca Zambello is there and she's the coolest lady ever!" While that is still true, and I adore Francesca, I think what I most cherished from my first summer at Glimmerglass were the lasting relationships I formed. Last summer I was markedly very busy — I was in three mainstage productions, the youth opera, various ancillary programming, and a one-act Rossini opera. It amazed me how many of my colleagues supported me during my busiest days, and it is delightful to know that our friendships have carried on past the summer. I look forward to making even more friends this summer and being a helping hand to the folks who need it most… as well as having the opportunity to meet and portray Justice Ruth Bader Ginsburg!
This summer I am singing Justice Ruth Bader Ginsburg in Derrick Wang's new opera Scalia/Ginsburg. I have the unique opportunity to operatically step into the shoes of one of the most influential, articulate, and steadfast women alive today, and to do this next to a tenor whom I admire, William Burden, who sings Justice Scalia. I look forward to crafting this role with our wonderful team in the first iteration of the score where Ginsburg is sung by a mezzo-soprano. Hopefully, I will do the Notorious RBG "justice" with my portrayal… and hopefully, she will not dissent!