Below is an excerpt of an article written by Francesca Zambello that appeared in The Glimmerglass Festival's newsletter, Fanfare, which is published twice annually as a benefit for National Council members, Camerata members and members of the Glimmerglass Festival Guild.

Each summer, visitors to the Alice Busch Opera Theater have an opportunity to be transported to many locations around the globe. This year's The Siege of Calais takes us to the famous and oft-contested port city in France. Porgy and Bess allows us to experience the American South of the early 20th century, while Xerxes transports us to the magnificent Persian Empire. And, of course, there's Rodgers and Hammerstein's tribute to the land where the corn grows as high as an elephant's eye — Oklahoma!
As we prepare these pieces, we try to honor their history and their facts, but also seek ways to theatricalize and find the spirit of the locations. When I work with the designers we try to create spaces the performers can "live" in. It is important for me that we find a personal connection and a way to approach a work.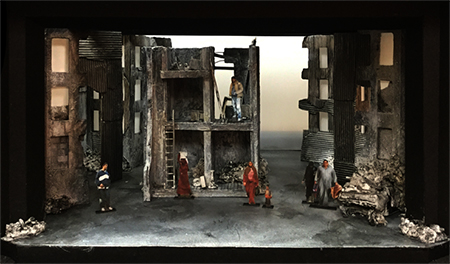 The Siege of Calais is surely the most unknown of all our works this year. Why did I choose it? So many things always converge to make a title bubble up. I always start with at least 20 options for a season and then whittle it down, with an eye to creating a balance.
We have not done a Donizetti opera in over a decade. We have given early Verdi, Rossini and Bellini their due in the last few years, but Gaetano has been left out! In addition, I had a personal history with the opera, having directed it over 20 years ago for the Wexford Festival. I was astonished to learn that it had never been done in the United States. When I returned to the score, I was again struck by both the beauty of the music and the powerful contemporary resonance of the story. In this season, where we explore ideas of "home" it is a perfect fit. It deals with the historic, year-long siege in which the English attempted to starve the French out of their homes. The notion of the starving and the homeless powerfully connected with me as I watched the thousands of refugees in the recently dismantled camps known as the Calais Jungle. The camp's forceful closing sent thousands of refugees into other parts of France. Many of those refugees escaped situations not unlike those faced by citizens of Calais some seven centuries ago. It is heartbreaking to me to contemplate the hundreds of thousands of people who have been forced out of their homes in Syria and elsewhere.
Is this opera our way of making a political statement? No—it is an invitation. As a leading cultural institution in Central New York, I feel that it is important for us to be a home of dialogue, a place where a wide variety of viewpoints can be spoken and heard. The world is a complicated place, and there are no easy answers to the problems we face. But by sharing human stories from across the centuries and around the globe, I hope we can spark meaningful, respectful discussion about today's complex ideas and issues.
In all of these works, the spirit of the people, and their commitment to each other, is what makes a setting not just a spot on a map, not just a moment in history, but a home. I see that same spirit in the diverse community of artists and opera-lovers who make their home at Glimmerglass each season. I invite you to join us on a trip around the world (no passport required!) and to bring your unique perspective to our ongoing dialogue.