Guest blogger Rachael Powles joined the Glimmerglass Festival Youth Chorus last season; this year she returns as "Sam the Scribe" in Robin Hood. She is an incoming senior at Sauquoit Valley High School, where she is editor of her school newspaper as well as an active member of the drama club.
Even if you have never seen Rodgers and Hammerstein's Oklahoma!, you have likely heard it mentioned in conversation.  You may have heard iconic tunes like "People Will Say We're In Love" and "Surrey With The Fringe On Top," not knowing where they were from.  In any case, Oklahoma! has become synonymous with the term "musical": light, comedic and bursting with colorful characters and grand dance numbers. Some would go so far as to label it cliché, as it seemingly reinforces a number of assumptions about life on the prairie. But beneath its shiny surface, the first modern musical is, in a way, a commentary on our own tendencies, told through the lens of a tightly-knit community of individuals all struggling with the same private fears.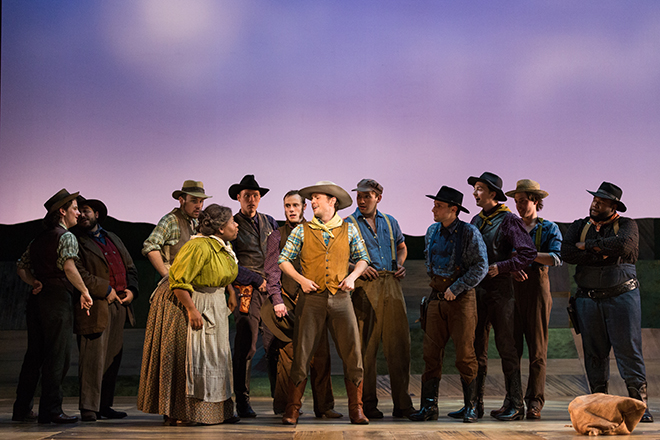 Photo: Karli Cadel
Although the plot is relatively easy to follow, Oklahoma! is a story of contradictions.  The simple life of the farmhands and cowboys is peppered with complexity.  Curly, for example, longs to marry Laurey but fears losing his freedom.  Jud claims to love and respect Laurey but instead he stalks her and threatens her when she rejects his advances. Will is annoyed by Ado Annie's promiscuous behavior but does not hesitate to flirt with other women.  Ado Annie's father wants his daughter to be safe but has no problem with threatening violence against anyone who claims they can protect her.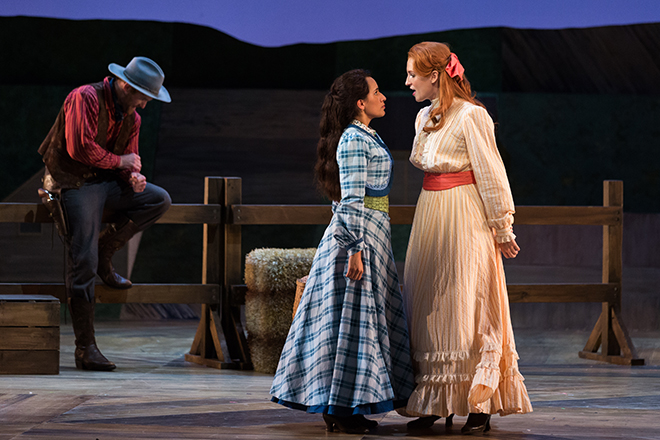 Photo: Karli Cadel
The prime example of contradictions is Ado Annie herself, who is viewed as both a stereotype and an oddity.  She personifies the idea that women are all too willing to fall for any man they can spot, but for the women of her time her flirtatious behavior is quite radical.  She dates many different men in her quest to find a husband, from the Persian peddler Ali Hakim to cowboy Will Parker. Although her romantic escapades are comic, some women may no doubt relate to Ado Annie's struggles to balance appearing too reserved or too willing.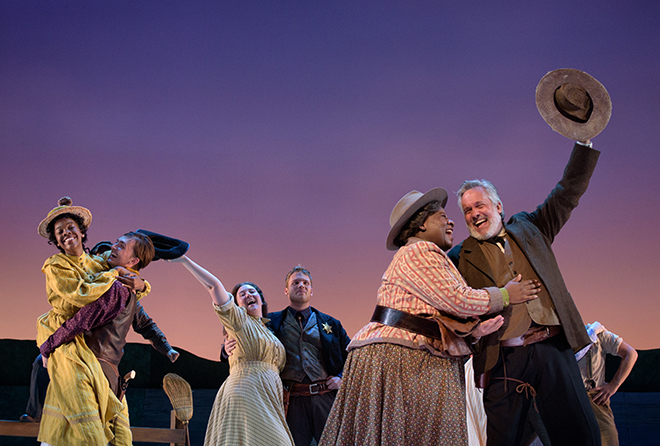 Photo: Carrington Spires
By far the biggest contradiction is introduced by Laurey early in Act 1.  When trying to decide what to buy from the peddler, she passionately declares that material things will no longer satisfy her, but rather, "I want something to happen to me." But repeatedly when things begin to happen, Laurey resists with all her her strength. She resists leaving Jud, opening up to Aunt Eller and admitting her feelings to Curly, all out of fear of leaving her familiar life behind.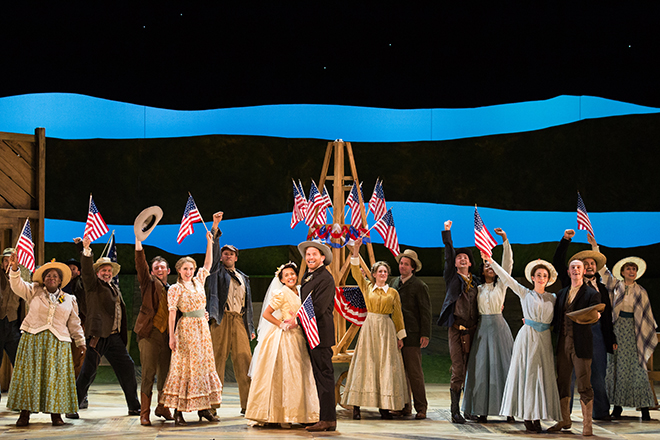 Photo: Karli Cadel
It is easy to dismiss Laurey as being indecisive, but the emotions she grapples with are not unique to the people of her time. Many of us want things to stay the same — to stay where we are and avoid as many painful transitions as possible.  We want to stay where it's safe. Where it's familiar.  But as the characters find out, life is not so simple. As Aunt Eller famously says following the musical's climax, "You've got to get used to things happening to you." That is the story of Oklahoma!  It is a story of a community learning to let their lives happen, learning how to balance growing up and staying young, falling in love and finding independence, staying free and settling down. Yes, this musical is funny and energizing, but even after 60 years, the contradictions at its heart continue to speak to us, helping us come to terms with our own indecisive nature.