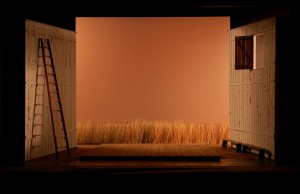 Our 2010 Festival will include performances of Aaron Copland's The Tender Land, and I've spent much of the fall happily immersed in all things Copland. The Brooklyn-born composer was born in 1900 and lived until 1990. His life spanned nearly the entire century, during which he met and worked with many remarkable individuals—a study of his life very quickly become an survey of American musical/cultural life in the twentieth century. Two books he completed with the help of Vivian Perlis, Copland: 1900-1942 and Copland: Since 1943, weave in first-person recollections from people like Nadia Boulanger, Leonard Bernstein, Virgil Thomson, Martha Graham… to name a few.
In September, I spent some time with the Aaron Copland Collection at the Library of Congress, a truly marvelous institution. It takes about as much time to obtain a reader's card as it does to renew your driver's license at a small-town DMV. With that card, I was able to request boxes of correspondence between Aaron Copland and Leonard Bernstein. Not photocopies, but the actual letters, telegrams, etc. If you're not planning to be in Washington, DC anytime soon, many of the letters have been scanned and are available here. 
Last Friday, the designers and directors of the 2010 season presented their preliminary ideas to a small group of staff and board members. The production for The Tender Land, designed by Donald Eastman and directed by Tazewell Thompson, reminds me of the music—spacious and simple, yet richly textured.