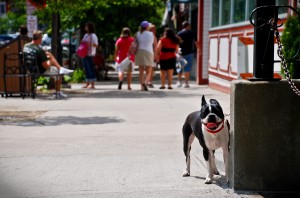 In high school being on your favorite band's street team was "the thing to do." It created a "deeply intimate" connection between you and the band. You were hand-selected (okay, you mailed a postcard with your address and they mailed you a box of materials) to spread the word about how utterly amazing and talented the band was, and how you had been "in the know" about them for quite some time.  And, the swag, oh, the swag, what a bonus! It was hard to believe you received promotional materials for talking about your favorite band – something you would do anyway.
Although the concept of a street team isn't a new one for many industries, I'm not sure if another opera company has a bona fide street team.  Of course we all rely on word of mouth to help expand our audience base, but wouldn't it be great to go one step further? Talking about Glimmerglass is great, but to be able to supplement that conversation with a brochure? Priceless.
Consider joining the Glimmerglass Opera Street Team. You'll receive a welcome package full of Glimmerglass goodies, and to show our appreciation, Street Team members will receive nifty, exclusive  benefits.
For more information, or to join the Glimmerglass Opera Street Team, contact me at jdzialo@glimmerglass.org.