During the Glimmerglass "off-season," I work on a wide variety of projects with a wide variety of collaborators. Inevitably, my most interesting projects seem to have some connection to this place, which annually brings a collection of amazing artists together in an environment that combines an intense creative energy with a sense of being "unplugged" from the hectic routine.
At the moment I'm writing the libretto for a new chamber opera by John Glover, who spent three summers working at Glimmerglass. It's a one-man show featuring Andy Wilkowske (YAAP, 2005 & 2006), with music direction by Jocelyn Dueck, who has served on the music staff for several years. All of us met at Glimmerglass, where we discovered lots of overlaps in our individual eclectic tastes. When we got a grant from Meet the Composer to do some youth workshops, we knew we wanted to return to the place where our creative friendship began.
Glimmerglass may be the largest producer of performances in Otsego County, but we haven't cornered the local market on creativity. Just over the hill, Cherry Valley was once home to Allen Ginsberg, and some of the folks from Committee on Poetry days are still around. Artists of every stripe continue to be lured by breathtaking views, a vibrant community, and inexpensive housing—it's a great place for people to do their work and raise their families. Several years ago, a group of Cherry Valley residents got together to rescue an abandoned school building and create a community venue for live music and other events—the Old School Café.
On Sunday, John and I met with six young "Old School" regulars. We had sent them portions of the libretto in advance, and they came with their own musical responses to the text. John and I had a terrific time jamming with the creative and talented bunch of musicians. It made me nostalgic for the kind of small-town Sunday afternoon that I never really believed in—until I started spending my summers here.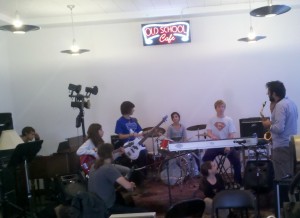 Some people say lithium in Cherry Valley's water supply is responsible for the uncommon good spirits of its residents. A similar chemical imbalance must have affected the Cooperstonian dreamers who launched an operatic venture in a high school auditorium. By the time I got here, in 1994, the company was already A Big Deal, with shows directed by the likes of Mark Lamos and Jonathan Miller in a beautiful opera house designed by Hugh Hardy. Anywhere else, I would file this whole story under "Impossible Dream." But there's something about this place…