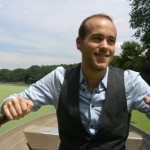 This blog is part of a series of posts from patrons, volunteers, former interns, artists and staff discussing how Glimmerglass has enriched their lives. Please consider posting your own stories about how Glimmerglass has impacted you, and make a gift (click here) to help ensure the future of our great festival. Any new or increased gift will be matched dollar for dollar by the Glimmerglass Board from now until the close of the year.
Nick Covault served as the Glimmerglass Artistic Administration Intern in 2008 and 2009. He worked with the artistic department and the Young Artists Program (YAP).  Since working at Glimmerglass, Nick has received his Bachelor of Music in Vocal Performance and a Bachelor of Arts in Arts Administration from the University of Kentucky.  He recently started working at the Kentucky Governor's School for the Arts as their Program Coordinator.
Two Life-Changing Summers by Nick Covault

When I found out that Glimmerglass had accepted a 22-year-old boy from Kentucky as their Artistic Administration Intern, I figured there had been some sort of clerical error.  I was very familiar with Glimmerglass' prestigious reputation, and although I was thrilled, I was also a bit terrified to spend the summer at a place I had only seen on the pages of Opera News.
What I found upon my arrival in Cooperstown was a company of the highest artistic commitment and determination, run by some of the kindest and most down-to-earth mentors I believe I shall ever have.  My supervisors within the artistic department wanted so much to share the ins and outs of "the business," and they provided a safe and comfortable atmosphere in which I could absorb those lessons like a sponge. I could not walk to the copy machine without exchanging a smile, and a day never passed by where I didn't learn or laugh.
From the guild members who took me under their wing, to my fellow interns (many are still in touch); there was always someone to inspire me. During my time at Glimmerglass, I'm sure most people knew me as the anonymous boy running flowers to the artists back stage or the guy who always looked at little nervous on the days of the Young Artists' auditions.  But from my perspective, I was experiencing two life-changing (no hyperbole there) summers that I will always cherish.  I am forever indebted to my many Glimmerglass mentors, and cannot thank them enough for showing a little boy from Kentucky that he can do whatever he sets his mind to. Thank you to Glimmerglass for providing me with this incredible experience. I think of y'all more often than you know.