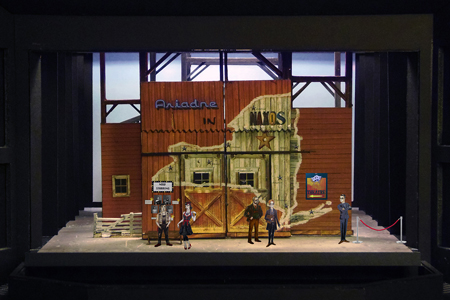 As the backbone of a show's visual aesthetic, design is a crucial part of an opera production.
On Thursday, June 19, at 6:30 p.m., Glimmerglass Festival designers Troy Hourie and Erik Teague will discuss their roles in the company's summer production of Strauss' classic opera, Ariadne in Naxos, in the Woodside Hall presentation "Ariadne in Naxos: Unplugged."
Hourie, originally from Calgary, Alberta, has served as set designer on a multitude of productions, including Waiting for Godot at the Classical Theatre of Harlem, West Side Story at Syracuse Stage, Invisible Man at Court Theatre and Top Girls at Guthrie Theater. Hourie also worked as the installation artist for Escape to Beira at ARTerra in Portugal, and he will add to his international résumé with an upcoming position as the installation artist for Apparitions at Finland's Arteles.
Teague made his Glimmerglass design debut with the 2013 production of The Flying Dutchman. He has also worked in costume design with Washington National Opera on productions of The Lion, The Unicorn, and Me and Hansel & Gretel, as well as with the Boston University Opera Institute's production of Thérèse Raquin.
This Woodside Hall event is free and open to the public. Reservations for "Ariadne in Naxos: Unplugged" are requested, but not required.  For more information or to make reservations, contact Deborah Ziegler at (607) 373-7817.