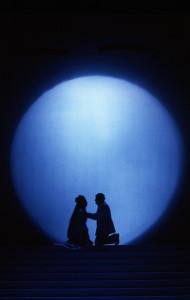 The artistic influence of the 2014 Glimmerglass Festival has melded with history at the Fenimore Art Museum for a series of collaborations. The museum features three complementary exhibits based on Madame Butterfly and An American Tragedy—operas that will appear on the Glimmerglass stage this season. Adding a supplementary understanding to what an audience member witnesses onstage, these exhibits offer a look into the historical side of Tobias Picker and Puccini's operas. Standard admission rates apply; visit the Fenimore Art Museum website for more information.
An American Tragedy: The Gillette-Brown Murder
Running through September 1
Over 100 years after the infamous murder trial, Fenimore Art Museum brings the evidence of the crime's effect on Upstate New York back to life. The exhibit includes Chester Gillette's prison diary, as well as original court documents and love letters between Gillette and girlfriend Grace Brown. Brown's murder in the Adirondacks spurred nationwide headlines, and its resulting trial made the case prominent in popular culture, as made evident in the 1951 film A Place in the Sun and Theodore Dreiser's novel An American Tragedy. Tobias Picker's opera of the same name will be presented July 20 through August 24 on the Glimmerglass stage.
Madame Butterfly's World: Woodblock Prints of a Changing Japan
Running through September 21
Fenimore Art Museum features a taste of early 20th-century Japanese culture, the same period of Madame Butterfly's Cio-Cio-San's life in Nagasaki. The exhibition includes Japanese woodblock prints which demonstrate the artistic styles of the region and era, which give Cooperstown insight into traditional Japanese art. Guest curator Dr. Jacqueline Atkins will offer a special Food For Thought tour of the exhibit on July 16.
Madame Butterfly: Highlights from the Metropolitan Opera
Running through December 31
Puccini's magical opera Madame Butterfly can be found on stages around the globe, but few more renowned than the Metropolitan Opera. Fenimore Art Museum takes you through the evolution and history of Madame Butterfly at the Met through costume, sketches, and photographs. From its Met debut in 1907 to the present, observe how Madame Butterfly continues to excite audiences around the world, including The Glimmerglass Festival, where it runs July 11 through August 23.