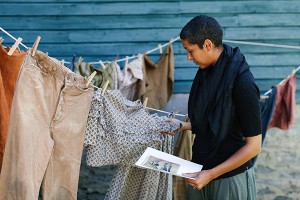 The Glimmerglass Festival's 2014 production of Rodgers & Hammerstein's Carousel takes audiences back more than a century to 1873. A large part of this theatrical time travel is dependent on not only the set characterizations, but in large part what is worn onstage. The person responsible for transporting Carousel to a whole other era is costume designer Jessica Jahn, who returns to Glimmerglass after working on the Festival's 2009 production of La Cenerentola. A native of Seattle, Jahn has designed costumes for an array of periods varying from 16th-century London in Donizetti's Maria Stuarda to Gaul in 50 B.C. in Bellini's Norma.
Jahn didn't start out in the design industry; her original plan was to share her talents onstage as a dancer. After training through her undergraduate years at Mason Gross School of the Arts at Rutgers University, Jahn graduated with a double major in dance and psychology. Five years into her dance career, however, Jahn had a change of heart. A collaboration on a theater project with director Darren Anderson spurred her interest in costume design. For Jahn, the realization of her true passion was instant and life-changing.
"I immediately fell in love with the process and the work, and within about a year or two had decided to switch careers," Jahn said. "I was lucky enough to be able to find assisting work in the beginning of my career with amazing designers, drapers and supervisors that helped to propel my own work forward."
Through early mentoring from these supporters, Jahn found her way into the costume design sphere, and was soon designing for film, television, and print works in addition to theater and opera. She recently completed designs for Maria Stuarda at Houston Grand Opera as well as Minnesota Opera's production of Werther.
This summer, Jahn has found herself back at The Glimmerglass Festival with the task of creating unique and periodically-accurate looks for the cast of Carousel. To gain the insight into who these characters are, Jahn takes a customized approach to the production.
"After reading the script or libretto, I try and land on a time and place that these characters live. Then, based on their environment, I try and gauge their reaction to it, and to the others around them," Jahn said. "No matter what the period, or story – people are, in essence, the same now as they have been for thousands of years. They have hopes and fears, envy, love and perseverance. If a designer is able to be empathetic, and step into another's shoes, then he or she can begin to understand how a character may act or think about being put in the situation that they find themselves."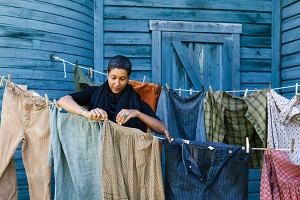 This is where research comes into play — or rather, musical theater. Jahn found a book in her own personal collection to be of use. "Dressed for the Photographer" provided the Carousel designer with analysis of middle-class American fashion in the late-19th century. Additionally, digital photograph databases proved useful in learning about the era. Utilizing photograph collections from the Library of Congress as well as the New York Public Library, Jahn was able to craft costumes based on actual individuals found in images taken during the period. An example of this can be found in a mill girl's attire in a 19th-century mug shot, which will be brought back to life on the Glimmerglass stage this summer.
"Research is my favorite part of the process," Jahn said. "The process of looking to history for a project like this is a wonderful and humbling way to understand where we have come from as a culture and nation, to really grasp the lives of the actual people that came before us."
Jahn explained that a challenge in creating these looks is giving life to these past looks and individuals while avoiding turning them into caricatures. With the end result — a character's costume design — a balance is found between historical accuracy and insight into the personality of the particular character.
"Understanding a person through the clothes that they have chosen to wear on a particular day is a multi-layered process, and is a combination of dramaturgy, cultural anthropology, psychology and intuition," Jahn said. "I hope that I was able to make choices in Carousel that help the audience understand each of these people and the lives that they live."
Jahn's Carousel costume designs can be seen this Saturday in the production's opening night.