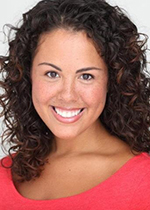 Kerriann Otaño comes to Glimmerglass from just a few hours downriver—Wading River, New York, that is—as a cover for the role of Roberta Alden in An American Tragedy. The soprano holds a Masters in Vocal Performance from Mannes College The New School of Music, and will soon be joining Washington National Opera as a member of the Domingo-Cafritz Young Artist Program.
Otaño has made appearances on stages across the country including Despina in Così fan tutte at Fort Worth Opera, Berta in The Barber of Seville at Central City Opera and Donna Elvira in Don Giovanni at Seagle Music Colony.
Here is our Quick Q&A with Kerriann Otaño:
What has been your favorite role so far and why? My favorite role has been Donna Elvira in Don Giovanni. I sang it first while getting my master's at Mannes and then again in the summer of 2012 at Seagle Music Colony. Don Giovanni is one of my favorite operas because Elvira is so complicated and interesting. She is fiery, passionate and devoted. At times she is comical. At times she is heartbreaking. I love everything about that role and I'm so lucky to have gotten to sing it already!
What is your dream role? Tosca! I recently saw it for the first time at the Met and it blew my mind! I love her character and her strength and passion, fire and soul, love and complexity. It's breathtaking.
Is your family involved in the arts as well and how? My parents are incredibly supportive of my goals and have always encouraged me to pursue music. My mother is an elementary school teacher and she has a beautiful voice! My dad is super knowledgeable about music and loves everything from jazz to musical theater to punk rock… That having been said, he is completely and adorably tone deaf.
Are there any artists you feel particularly inspired by? While there are many famous singers who I admire and listen to regularly, I get the most inspiration from my peers and colleagues. With all the changes in opera and media in general, it is amazing to me how quickly opera companies need to evolve as well.
What do you sing or listen to for fun? When I was in college I was the musical director of an a cappella group for four years. A cappella music is still in my heart and whenever I listen to it, it takes me back to my college group and my best friends!
What are your interests or hobbies? I love knitting! I also love cooking big dinners for my friends and family, baking pies, reading zombie books, going on road trips with my boyfriend, and dancing around in my living room to the Spice Girls.
If you hadn't become a singer, you would have: I was involved in a lot of different clubs and activities when I was a kid but singing and performing was always my favorite. I think if a career as a singer hadn't been an option I would have still wanted to be involved in the arts. I think I would have gone into directing or stage management.
Any hidden talents? My nose. It has to be seen to be believed. Also I know all the words to "Ice Ice Baby" by Vanilla Ice.
One thing you can't live without: Fuzzy slippers, my boyfriend's cozy sweatshirt, and a glass of wine after a long day.
What are you most looking forward to at the 2014 Glimmerglass Festival? I have been lucky to do several Mozart roles since I've been singing and I've been in the chorus for several operas by different composers, but getting to study a contemporary work and create the character yourself is an absolute thrill. I'm so looking forward to getting started with An American Tragedy, and then getting to see all the composer's ideas and intentions come to life. It will be an honor to be a part of that process! I did a workshop of Libby Larsen's new opera A Wrinkle in Time, and collaborating with her was amazing! I'm also super excited to meet all the other singers and reunite with people that I haven't worked with in a while.