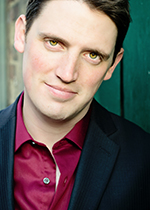 Glimmerglass' 2014 production of An American Tragedy has been anything but a tragedy for the eight Young Artists who sing the starring roles of Tobias Picker's opera.  One of these talented Young Artists is tenor Daniel T. Curran. Originally from Blackfoot, Idaho, Curran sings the Tragedy role of Gilbert Griffiths in addition to covering the part of Enoch Snow in Carousel.
Curran holds his Master of Music from The Juilliard School and didn't travel far for his roles at New York City Opera, which include Ferrando in Cosi fan tutte and the covering of Electrician in Powder Her Face. His other roles include Count Almaviva in The Barber of Seville at Merola Opera Program, Peter Quint in The Turn of Screw at West Edge Opera, and the title role in Paul's Case at Pittsburgh Opera. Curran also sang the title role in La descente d'Orphée aux enfers at Gotham Chamber Opera.
Here is our Quick Q&A with him:
What has been your favorite role so far and why? Rinuccio in Gianni Schicchi. It's a lot of great music, really funny story and it's only an hour long. Best of everything.
What is your dream role? Probably Rodolfo or Faust.
Is your family involved in the arts as well and how? No, although they do very much appreciate what I do.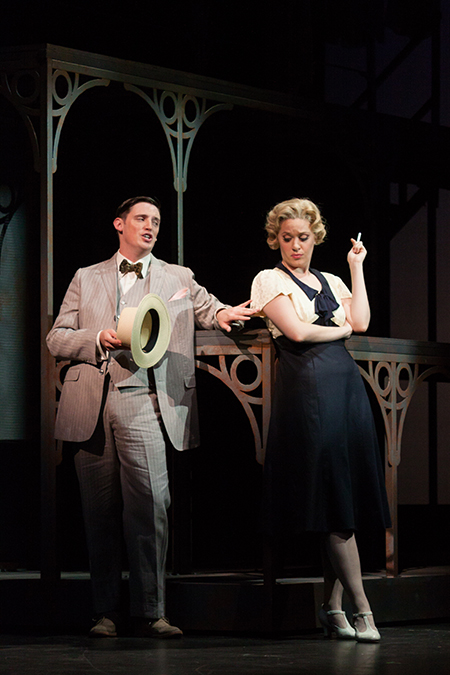 Are there any artists you feel particularly inspired by? Most of the singers that inspire me have been dead for a while. Fritz Wunderlich is the bible of tenors and obviously Pavarotti is on the list. Probably two of my favorite living tenors right now are Matthew Polenzani and Lawrence Brownlee. I'm also inspired by Oscar Peterson, the jazz pianist. Jazz is simultaneously relaxing and inspiring to me, so I have to plug him into the mix.
What do you sing or listen to for fun? I don't do a lot of singing for fun. I listen to oldies, jazz and a lot of film scores. I play jazz piano when I'm not singing.
What are your interests or hobbies? I like the 'old man' hobby of model railroading; I have always liked trains ever since I was a little boy. I also like a good restaurant and eating out when I can.
If you hadn't become a singer, you would have: I would have loved to be a studio instrumentalist and recorded for films. I played French horn for number of years and that was my initial musical goal. I love film music. When I run into an opera that I really like it's usually because of the orchestral texture.
Any hidden talents? If I tell you they won't be hidden anymore.
One thing you can't live without: My beautiful wife. That woman keeps my head on straight—patience of Job.
What are you most looking forward to at the 2014 Glimmerglass Festival? Adding two new roles to my repertoire and meeting some new people. I have multiple roles to prepare this summer, and though one is a cover, it is equally important. I am completely in love with Rodgers and Hammerstein's Carousel score. I have performed this once with the New York Philharmonic and have very few musical experiences in my life that have moved me as much. Very rarely do we get to experience this music in its full glory, so I am very much looking forward to that. As far as An American Tragedy, I expect it to be very difficult but extremely rewarding. This is my first experience with a Picker opera and hope to do Gilbert Griffiths artistic justice. Modern opera can be quite a challenge … I prepare these productions piece by piece so as to not overwhelm my brain. It's important to absorb the music slowly and accurately.