"I was worried that I would look at people and be scared. But, really, the whole scene was just so big, and with everything going on, I really felt more like I was in church than on the stage."
-Allan Lloyd Guiney, Oral history interview, October 12, 2002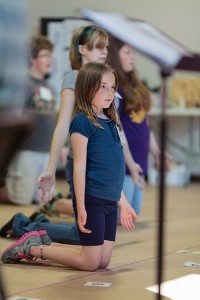 Since the very beginning, The Glimmerglass Festival offered an opportunity for opera enthusiasts of all ages to get involved. The first performances of the opera took place in the high school gym, after all!
Glimmerglass has been an important part of many community members' lives, and for many of these individuals, it began at an early age. Allan Lloyd Guiney was just 11 when he was introduced to Glimmerglass through the Oneonta Boys' Choir. He worked with the Festival all through high school and stated, "Being a young kid in the opera, everyone sort of looks out for you."
Young community members such as Guiney are crucial to each season's success with their contributions in the gift shop, working behind the scenes, and actually performing on the Alice Busch Opera Theater stage alongside professional opera singers.
Glimmerglass still has great opportunities for the youth of the community to come together and celebrate (or discover!) their love of opera. The newly-commissioned opera, Odyssey, will premiere this summer with a cast of local youth. This production, along with the Glimmerglass Internship Program and a host of other educational activities, welcomes performing arts lovers of all ages to the world of opera.
What first got you involved with The Glimmerglass Festival?